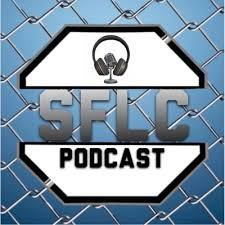 Bellator 185 is coming up this Friday night at Mohegan Sun, live and free on SPIKE. Ana Julaton (@anajulaton) joins us as she prepares to make her Bellator debut against Lisa Blaine at the event. We had to do this interview while I was in may car after dropping off my son at school, so the audio quality from my end is not as good as you're accustomed to hearing. Ana sounds great.
Brought to you by MyBookie.ag Use promo code 'SFLC' to get up to 100% match on your first deposit, which is perfect for NFL season, NCAA football action, MLB playoffs, NHL, NBA, Bellator 185, UFC in Gdansk and much more. This deal with our promo code ends SUNDAY, so act now.
Dependable Solutions - Innovating the future of YOUR small to medium sized business since 2012. It's 2017, if you are not accepting credit cards, you're losing money, plain and simple. Learn how you can save 40% to 60% on your overall credit card processing bill by going to dependable-solutions.net
TickPick - TickPick is where smart fans buy, sell, and bid on tickets online and offer a 110% guarantee. They show the best deals and have no hidden fees. Find your next NFL, NBA, MLB, Concert Tickets, UFC, Bellator and more. Go to tickpick.com/podcast to save $10 off of your next order.
*Purchase the Ric's Picks theme from The MMA Hour for $1.29 and proceeds will support Water4 and Fight For the Forgotten. itun.es/us/XCwwlb?app=itunes
Follow the show on twitter @SFLCPodcast
Mike Heck @MikeHeck_JR
Subscribe on Apple Podcasts for FREE -> itunes.apple.com/us/podcast/sports-fan-like-conduct/id805798918?mt=2
Rate & Review!
Plus, help us out by checking us out on Patreon. Want to be a part of the show? Want to interview a fighter with us? Custom made intro music? Exclusive content? Support the show by going to patreon.com/sflc